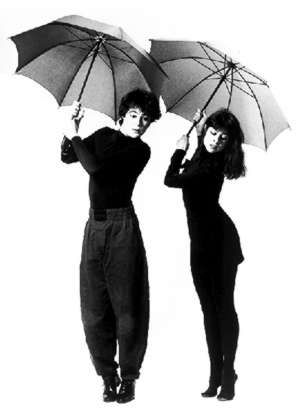 The immensely talented Keith Berger and Sharon Diskin have performed as a team since 1985, delighting a wide range of concert audiences in North America and Europe. Noted for their exciting performance style and professional discipline, Sharon and Keith have been well received at colleges, community concert halls, art centers and legitimate theatres. Among these are New York City's La Mama, etc., L.A.'s House of Blues, and two critically acclaimed runs at The Edinburgh Festival in Scotland.
Sharon and Keith have also performed on several world cruises that have brought them to such places as Monte Carlo, Venice, Romania, Bulgaria, Istanbul, and The Ukraine.
Since 1990 The Chameleons (Berger & Diskin) have been two of the most popular and in demand artists touring for the L.A. Music Center Education Division. Their programs for children are some of the most sought after theatre in Southern California.
Their television appearances include featured roles on the "Wonderworks" PBS special Gryphon, and numerous guest appearances on talk and variety programs in the U.S. and Great Britain.
They recently produced their first children's video, Berger & Diskin's Show & Tell Mime and it is soon to be released at stores nationwide.
Gifted teachers as well as performers, Berger & Diskin have taught physical theatre and mime at Cornell University, The Disney Studios and at their studios in New York and L.A.
Keith Berger adheres to no one "doctrine" of physical theatre. His influences range from the classical French pantomime of Barrault and Marceau to the forcefully dynamic American Mime Theatre style.
Keith was among the very first performers to take his act on to the streets of New York City and was named "Most Outstanding Street Performed".
Since then, he has toured his one man show throughout the United States and Europe. Among these concerts are featured performances at Lincoln Center. The Kennedy Center for the Performing Arts, The Palm Beach Arts Festival, and a Royal Command Performance for Princess Grace of Monaco.
Some of his T.V. and film credits include Red Skelton's "Funny Faces", "Crossover Dreams", "Angel Heart", "The Suicide Club", and most recently starring role on CBS' "Space Rangers". Off Broadway, Keith wrote and starred in "Broken Toys".
Sharon Diskin began her professional theatre career as a child in Arizona acting in numerous stage productions. She is probably best remembered for her gripping portrayal Of Anne Frank in "The Diary of Anne Frank." Since then she has gone on to portray such classic roles as Peter Pan and Miss Julie.
She fell in love with the art of physical theatre and mime in college when she had the good fortune to study with a guest artist named Keith Berger. After graduating from Oberlin College with a degree in Spanish she went on to train for 6 years at The American Mime Theatre in New York City under the tutelage of Paul Curtis. During this time she teamed up with Keith Berger to form their very unique performance duo.
Her film work includes "Angel Heart" and Chantal Ackerman's "Histoires D'Amerique".
Keith Berger and Sharon Diskin are married and currently reside in Los Angeles with their son, Gideon, their daughter, Allegra, and their two cats Max and Esmeralda.