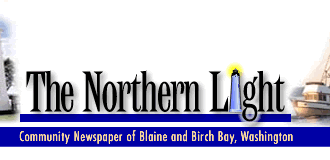 Viewpoint
By Richard Clark
Given the gravity of my responsibility as a music reporter for The Northern Light, I naturally appeared at our performing arts center 15 minutes early Saturday evening. In hand were my new ballpoint pen, my writing pad, and the usual handouts distributed at the door. I had time quietly to relax and mentally prepare for the appearance of Mark Nadler, featured performer of Carnegie Hall fame. I peacefully meditated.
Then everyone was startled when a man in formal concert attire – black and white as a penguin – suddenly materialized in my presence minutes before the show began. "Are you Dick Clark, the famous piano teacher-slash-critic?" he shouted. I was totally discombobulated. The audience snickered. Mental preparation? Meditation? Forget it! What on earth was happening here?
Soon, I realized this was nothing less than the extraordinary style of "Mark Nadler in a Nutshell," the 43-year-old musician who was raised in Iowa, a state where there are 3.2 pigs for every inhabitant. "And I'm a Jew," he said. So what can one make of this man who – apart from facial expressions like Mr. Bean – looks a little like Horowitz, moves about the stage like Spiderman, entertains like Victor Borge, sings like Pavarotti and dances like Fred Astaire? The answer, in a word, is either eccentric or multi-talented, I don't know which.
Suddenly, he made a mad dash for the stage, bounced upon it like a teenaged hurdle jumper (not once did he use the stairs), dropped onto the piano bench and, without touching a key, began singing an upbeat song that I didn't know.
After singing a few measures, he added the piano, and I realized this man had a rare gift called perfect pitch. Mark's music was an immediate hit, but had it not been for George Gershwin, the evening would have been guided by hilarious pandemonium. Brooklyn-born Gershwin, who died of brain cancer at age 40 in 1937, brought Tin Pan Alley into Hollywood's limelight nanoseconds before the Big Band Era popularized his music – songs that became American classics. And Mark obviously loves him.
Nadler was hardly in a nutshell when it came to needling his audience. Noticing someone from Custer had tardily crept into the auditorium, he stopped the music and yelled, "I came all the way from New York, and I got here on time!"
Then there was the "Vodka" song, "the vodka that makes you feel a little oddka." Along came Sandy with a glass of "vodka" that she quietly placed on the piano. As he slowly imbibed, his behavior grew relaxed, until he was tinkling the ivories while lying on the floor, quite "drunk."
He didn't play any Chopin, but he made up for it with Chopsticks. I think he initiated his tap dancing routine with that piece. Or maybe it was something by Scott Joplin; I can't remember. He would sit, play and tap dance, or dance around the piano bench while poking chords as he passed by the keys. Then he broadened the circle by tap dancing around the piano.
He walked into the audience, as was his manner on several occasions, and he asked if anyone wished for him to play their favorite piece. It was Kathy's birthday, and she requested "Somewhere Over the Rainbow." Well, he happened to hate that piece, but he agreed to play another that had "many of the same notes." I think it was "All that Jazz."
Nearly all of the selections he played and sang were by Gershwin. Mark's most unusual presentation, in my opinion, was a set of pieces called "I Love a Piano." Before long, he was belting out "The Rhapsody in Blue" in fine form. On Lincoln's birthday in 1924, Paul Whiteman and his orchestra premiered Gershwin's masterpiece at Aeolian Hall and emancipated American popular music. "Gershwin made a lady out of jazz," said Walter Damrosch. But what made Mark's rendition so fascinating was the way in which he turned the Rhapsody into an accompaniment for "'S Wonderful," which he also sang – a complicated three-way connection between two overlapping compositions plus his voice.
He had come from Swift Current, where "nothing was swift but the current." But he emoted over the wonderful Blaine people, and with a voice sweet as maple syrup, said, "We are bonding." The audience, I'm sure, was deeply touched, but I couldn't help wondering what he would say about Blaine the moment he performed in Longview the next afternoon.
The audience played a prominent role in the show. Spontaneity was key. There was no room for shyness. While time was running out at nine o'clock, he pulled about 15 women of varied ages from their seats, lined them up on the stage, and taught them to link arms and kick like cancan girls while he accompanied them. Patricia was the winner. The audience roared its delight.
Upon receiving a standing ovation, Mark agreed to play an encore. It was "Somewhere Over the Rainbow." Well, happy birthday, Kathy.